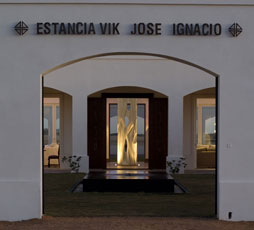 Estancia Vik José Ignacio: A luxury travel experience until now simply unavailable



Estancia Vik José Ignacio promises the adventure of Uruguay's traditional ranch experience and stunning nature, the splendor of South America`s finest beaches, the thrill of parties that outlast the sunrise, all amid the comfort, sophistication, and aesthetic magnificence of an estancia hotel beyond compare.

The hotel is located in one of the most exclusive coastal areas of the world, in the idyllic town of José Ignacio just 20 km from Punta del Este. Set within an area of 1,400 hectares, the hotel is located along the northern shore of Laguna de José Ignacio Arroyo and west of the waterway of the same name, which enjoys privileged views over the lagoon and the Atlantic Ocean. Shops, restaurants, bars and pubs can all be found some 8 to 8.5 km from the hotel and the tourist centre of Pueblo José Ignacio can be accessed in around 10 minutes by car. There is a disco located some 30 km away. The bus station is around 7 km from the hotel and the ocean and beach some 8 km away. Nature in the form of a river and lake can be found about 100 m from this establishment and guests can reach a park within around 10 m.

The hotel is situated in a Spanish colonial-style building, designed by architect Marcelo Daglio. The buildings focal point is its Adobe white walls and tin roof of an intense red that connects, via covered walkways, the open spaces and idyllic gardens. The spacious patio comes with a seating area where, protected from the sun, guests can enjoy the fresh air and outdoor sculptural works. The hotel is divided into 2 wings housing 12 luxury suites. Other features of this charming air-conditioned hotel include a lobby with a 24-hour check-out service, hotel safe and lift access. There is a children's playground for younger guests and food and drink can be enjoyed at the hotel's café, bar and restaurant. All Suites have privileged views to the river or Laguna de José Ignacio. Egyptian cotton linens, Wi-Fi environment, King Size Beds, custom designed personal amenities and State of the art technology. Each Suite boasts a unique design and integrates original art.

You will enjoy a delicious breakfast, in room mini bar and all soft drinks during your stay, Indoor activities (Pool, Sauna, Gym, Videos, Ping Pong, Darts, Nintendo Wii, Board Games), Outdoor activities (Driving Range, Two tennis courts, Polo court, Canoeing, Horseback riding, Paint Ball, Bird Watching, Biking, Lake Activities).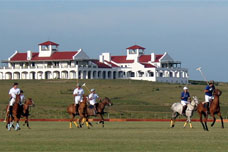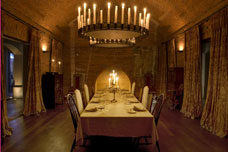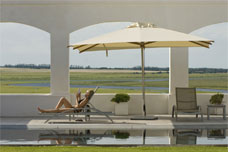 Playa Vik José Ignacio: A luxury travel experience on the beach

Located 12 miles northeast of Punta del Este, José Ignacio is renowned for its pristine beaches, rugged landscape, exceptional sunset and relaxed, bohemian style. Playa Vik is located on the Peninsula of José Ignacio, facing west with sweeping views across the Southern Atlantic Ocean and Playa Mansa, also known as the "calm" beach towards Punta del Este a sunset that has been descripbed as the best of the planet.

The focal building of this avant-garde beachfront retreat is a central "sculpture" building, which is the heart of the compound, boasting an important collection of international and South American art throughout included works from James Turrell, Zaha Hadid and Anselm Kiefer. The building's 55 foot inclined façade features a vast sliding wall of glass, designed to open completely and capture the majestic views of José Ignacio's vibrant coastline, as well as allowing sunlight and the outdoors to pour into the interiors

Six beautiful houses of Casas surround the Sculpture in an L shaped pavilion, acting as individual homes for extended family and guests. All the Casas offer ocean view, have custom designed personal amenities, Egyptian cotton linens, telephone line dial up and wireless environment and King Size Beds / Single Beds. Three of the Casas house two master suites with their own private gardens, a living room, and one Casa has a unique design scheme, including Ebony Macassar ceilings, hand painted floors and a remarkable mud adobe fireplace. These Casas once again blend the interior and exterior as fully retractable windows slide into walls and let the rooms become one with their unique private gardens. Dividing the casas are the large bougainvillea plants that grow upwards towardsthe living roof of Uruguayan wild flowers which sweep across the undulating earth roofscapes of the casa pavilion and cascade into the private gardens , creating a striking panorama of natural color.