"LUXURY CAMPING IN PATAGONIA" - CHILE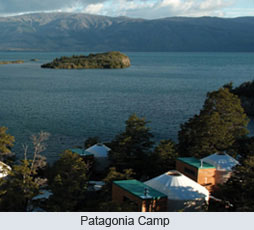 It is the first luxury camp in South America, an original and distinctive concept where every detail has been carefully thought of so that the guests may enjoy wild nature at it's best. Torres del Paine National Park and mythical Patagonia, combining comfort, convenience, and the warm hospitality that Chileans are known for.

Patagonia Camp is located on the shore of the enormous Lake Toro and facing the dramatic Paine massif, 74 kilometers along the new road that connects Puerto Natales with Torres del Paine National Park. The Camp is about 10 minutes from the Park's administration center and close to the main attractions.

Patagonia Camp was created so that our guests may fully experience the exuberant nature of Torres del Paine, and experience the sensation of "getting away from it all".

Patagonia Camp has been designed and built to have minimum impact on the environment and to be visually and structurally harmonious with the landscape of the area.

The entire complex is built on wooden stilts and platforms, including the yurts, communal areas, and walkways that connect the complex, so that we protect the plants, bushes and trees that have grown in the area for hundreds of years, and the dozens of species of birds who watch with curiosity the arrival of our guests.

Patagonia Camp was designed so that our guests may totally immerse themselves in the extraordinary natural landscapes of Patagonia, without foregoing luxury and comfort. Our yurts are designed so that our guests may listen to the sound of the wind or rain while staying warm and cosy inside, and they are situated so that when our guests step outside they are greeted by one of the most stunning landscapes in the world as well as a thick beech forest where we can observe some of the many species of birds that live with us in this region.

The excursions at Patagonia Camp are designed for any person who is in average shape, whether kids, teens or adults. Excursions are half-day or full-day, with the Towers hike being the most physically demanding (but also the most spectacular).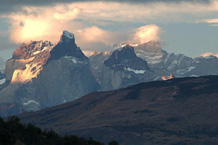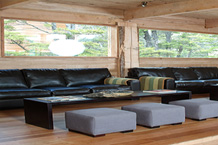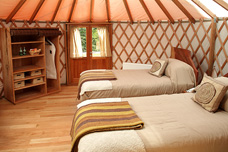 Select an Itinerary below to view details

Half Day and Day Tours

Santiago - 4 days/3 nights

Santiago and ViÑa del Mar (5 days/4 nights)

Torres del Paine - 4 Days/3 Nights

Salt Flat & Andean Towns (4 days/3nights)

Lake Crossing (Chile to Argentina) (4 nights/5days)

Cruise Puerto Montt to the San Raphael Glacier (7 days/6 nights)

Easter Island (3 day/4 nights)

Valle Nevado Ski 7 Nights + 1 Night Santiago + BUENOS AIRES 3 Nights

Valle Nevado Ski Trips - 2004 SPECIAL


See Also... Argentina Ski Specials - 2004 SPECIAL


Dream Cruises - South Chile and Antarctica NEW


"Romantic 12 day train journey" Chile 2009 NEW


"Luxury camping in Patagonia" - Chile NEW

Additional Tours/packages available to:
Arica, Iquique, Putre, Antofagasta
Temuco, Pucon
Puerto Montt, Puerto Varas
Horse Riding Southern Landscapes
Osorno Volcano
Punta Arenas, Punta Natales
Punta Arenas - Puerto Williams - Ushuaia