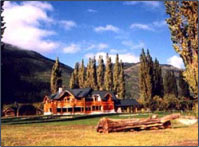 Peuma Hue… "Place of Dreams" in native Mapuche language. Nestled within the grounds of the first and largest national park in Argentina, the Nahuel Huapi National Park, in the Northern Patagonia Lake District, Peuma Hue´s 500 acres of wilderness are located at the southern end of Gutiérrez Lake, only 35 minutes south from the town of Bariloche and 45 minutes from its international airport. Bariloche is the gateway to the northern Patagonian Andes and an internationally renowned mountain resort, famous for its wonderful skiing in winter and its unique beauty in spring, summer and fall. To reach Peuma Hue, drive fifteen miles south of Bariloche on the paved road to El Bolsón and turn right on a dirt road along 1.5 mile to the private entrance gate leading to the lakefront and houses.



With the unique advantage

of being a Patagonia ranch, yet relatively close to Bariloche town and international airport, Peuma Hue offers the beauty of its wild surroundings in the Nahuel Huapi National Park and the comfort of luxury accommodations with a total capacity of 27 guests.
Wherever you look, the landscape is breathtaking: rugged, steep slopes, rolling hills of an ancient mountain fold, the calm beauty of the lake and its green bay, the valley behind.



There are many outdoor activities possible

within the property wilderness and it has an ideal location to visit the surrounding mountain resorts and national parks. Many prestigious adventure races chose Peuma Hue grounds as part of their challenges: Eco Challenge ´99, Raid Gauloise, Discovery Kids, Peugeot 2001, to mention just some



The main house was designed to maximize the exposure to each vista

. It has 4 luxury rooms with private bathrooms and a spacious living room and dining room overlooking the lake. Down the road is a small, cozy and romantic Log cabin, with its fireplace overlooking the creek. Across the bridge and overlooking the lakefront is the Guest House with 4 more bedrooms, each with its own private bathroom, a living room and dining room.



A boat house

(also used as a spacious and comfortable Board room), two more log cabins for staff and caretakers, a carpentry studio, a barn, a chapel, the stables and pasture grounds, a greenhouse and a native plant nursery and garden complete the inhabited area.
A mile away and 600 ft up the steep D´Agostini slope, an enchanted mountain log cabin overlooks the lake and facing rolling hills. From there, wonderful wilderness awaits for those eager to enjoy it.



Numerous waterfalls and creeks

, mountain trails and dirt roads, forests and the lake, steep granite walls and valley trails enable all type of outdoor activities to take place within the property and surrounding areas. A network of trails leads to distant peaks, rivers, lakes, valleys and ridges. This is why many prestigious adventure races chose Peuma Hue grounds as part of their challenges: Eco Challenge ´99, Raid Gauloise, Discovery Kids, Peugeot 2001, to mention just some.

We can fit different levels of expertise and suit different ages and tastes. Enjoy within the property wilderness during spring, summer and fall:



At home and surrounding areas.

Within the property. Learn about the forests walking our interpretative nature trails. A number of trekking trails take to different waterfalls, cross primeval forests, border the lake and lead to a huge network of hiking trails in the Nahuel Huapi National Park, allowing long multi-days treks using the Park mountain huts.
You can hike from our front door to the Frey valley, with its vertical needles offering world famous rock climbing.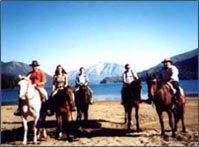 You can either drive or take a 2-day trek or horseback ride from Peuma Hue to Mt Tronador, the highest peak in the area, with its eight glaciers hanging from its flanks. First class whitewater rafting or kayaking is available in rivers close by. In winter, snowshoeing, cross-country skiing and ice skating in the frozen lagoon at Frey are reachable from home. Ice climbing is possible in one of our waterfalls. Mt. Catedral, one of the best skiing resorts in South America, is only 40 minutes away from Peuma Hue





All these activities are accessible to different ages

and levels of training and expertise. A group of first class professional guides work with us assisting our guests in each activity, as requested.
Peuma Hue is an ideal location to visit the surrounding areas. The area is full of charm during all seasons. Fall gifts us with striking colours ranging from yellow to dark burgundy. Deciduous nothofagus forests of "lenga" and "ñire" trees cover the mountains in red. Poplars turn Peuma Hue lawn yellow. Mt Catedral is a world class skiing resort in winter.



The Patagonia Lake District attracts anglers

from all over the world for trout and salmonide fly fishing. Summer offers all its splendor for every outdoor activity you wish to do. Mountain biking, paragliding, renowned fly fishing, water skiing, sailing, backpacking, ice climbing, rock climbing, hiking, trekking, horseback riding, river and lake scuba diving, golf and tennis are just some of the activities this wonderful area has to offer and that we can organize for your pleasure.